CELEBRATING INTERNATIONAL WOMEN'S DAY
In recognition of International Women's Day, Disney On Ice is celebrating the women in front of and behind the curtains of this iconic experience.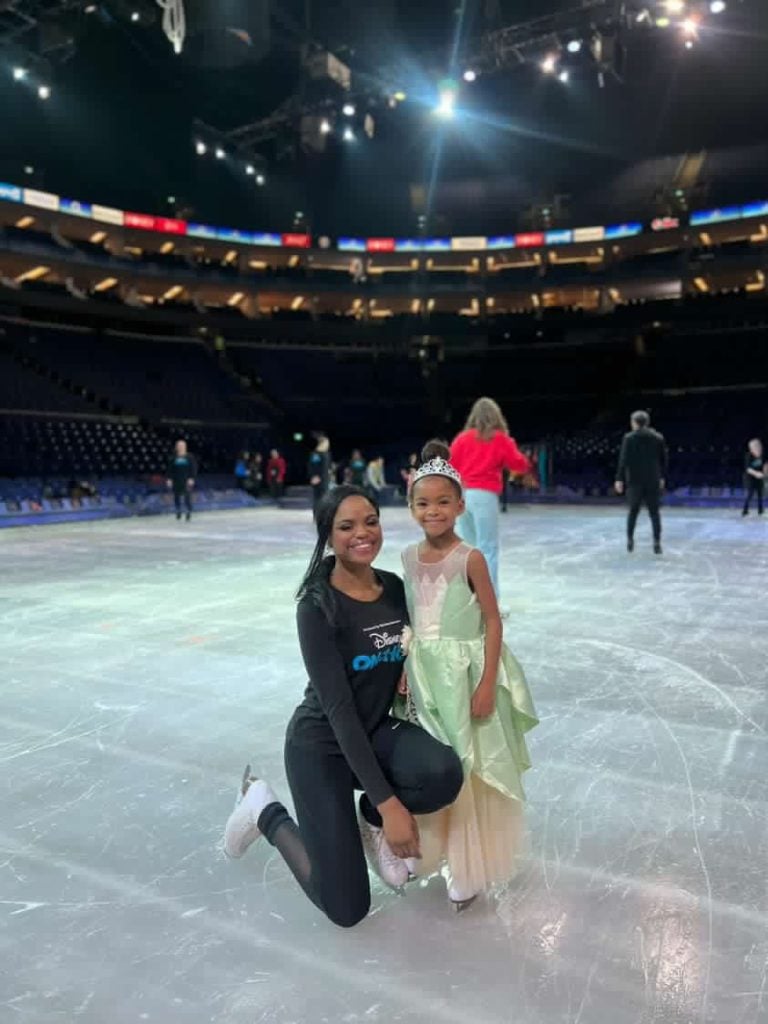 Oslo, Norway native and Professional Skater Louisa Warwin took to the ice for the first time twenty-two years ago. Soaring since she was 7 years old, today Louisa enchants Disney On Ice audiences as Princess Tiana. Inspired to start ice skating by 20th century figuring skating superstars Surya Bonaly and Sonja Henie, Louisa says that her favorite part of skating with Disney On Ice is "seeing the joy I get to spread around the world through my passion."
"Being a Disney On Ice performer makes me very happy. I enjoy every moment on the ice and being able to share what I love with the world is a gift."
Her presence and the impact she has on those who come out to watch her perform with Disney On Ice is not lost on Louisa.
"Representation is very important, especially for children," said Louisa "There are not many figure skaters of color. I love that I can inspire and show people ice skating is for everyone.
"Seeing all the young girls in the audience wearing their Disney Princess dresses and enjoying the show makes my heart melt. My favorite thing is coaching students and seeing them accomplish new goals and knowing (that) as a Disney On Ice skater I'm able to show even more young girls (that) ice skating is for everyone."
HEAR FROM MORE INSPIRATIONAL WOMEN BEHIND DISNEY ON ICE
Chantal Stringer, Associate Ice Casting Director & Production Coordinator
With more than twenty-three years of experience, Associate Ice Casting Director & Production Coordinator, Chantal Stringer can be found searching for new skating talent; ensuring professional skaters are aware of what a great next step Disney On Ice can be once they are finished competing.
Judy Thomas, Talent Director & Production Coordinator
Judy Thomas has worn many hats at Feld Entertainment, from performing as an ice skater in the first Disney On Ice performance in 1981, to being a Performance Director, to creating a Recruiting department, to her current role as Talent Director & Production Coordinator. Judy Thomas spends her days casting, recruiting, searching for the very best skaters to join our shows, rehearsals, training, show visits, and competitions.
Dawna Oak, Senior Director of Costumes & Costume Designer
Dawna Oak first started at Feld in 1997 and made her Disney On Ice costuming debut in production of Monsters, Inc. in 2003. Now in her current role as Senior Director of Costumes and Costume Designer, she spends her days designing, overseeing construction, budgeting, contracts, collaborating with other departments and managing the day-to-day operations of the Costume Department. Dawna's days are filled with a great variety of responsibilities that never leave her bored!
Cindy Stuart, Disney On Ice Choreographer
Veteran choreographer Cindy Stuart has been a principal choreographer for Disney On Ice for more than twenty years. From the moment she first laced up her skates at just six years old, Cindy has been an ice skating powerhouse. She made her professional debut at age 17 with Ice Follies, which would go on to become Disney On Ice. Her additional choreography credits include creating routines for Katarina Witt, Olympic Bronze medalist Joannie Rochette, World and Olympic Champions Xue Shen and Hongbo Zhao and Olympic Champions Jamie Salé and David Pelletier.